Nov
12
Mon
2018
CFR Co-Sponsored: Winter Clothing Drive for FCJ Refugee Centre- please check your closets and share widely!
Nov 12 @ 8:00 am – Dec 7 @ 9:13 am
As part of the Refugees Welcome Here! campaign for 2018-2019 WUSC Keele is leading and many on-campus student organizations, departments and colleges are collaborating in our 2018 Winter Clothing Drive for clients of the FCJ Refugee Centre,  running until December 7th.
If interested, you can read about last year's efforts and the spirit of this initiative at this link.
---
The York U Refugees Welcome Here! Campaign, led by WUSC Keele have organized the:
WINTER COAT AND CLOTHING DRIVE FOR CLIENTS OF THE FCJ REFUGEE CENTRE
"In Canada, with winter coming we believe at our centre that the protection of refugees begins with winter clothes to provide a warm welcome. It is beautiful to see York students acting in solidarity with humanity from the earliest years of their post-secondary education."
-FCJ Refugee Centre Co-Director Francisco Rico Martinez
The following are the on-campus drop off spots and participants to date:
207 BETHUNE COLLEGE (College Head's Office)
217 FOUNDERS COLLEGE (College Head's Office)
107 MCLAUGHLIN COLLEGE- Amnesty International at York
106 FIRST STUDENT CENTRE-York Federation of Students (YFS)
329 SECOND STUDENT CENTRE- Islamic Relief
1009 IGNAFF KANEFF BUILDING (Osgoode Hall Law School)-Community and Legal Aid Services Program (CLASP)
807 KANEFF TOWER- Centre for Refugee Studies/Syria Response and Refugee Initiative/
WUSC Keele Committee/Centre for Research on Latin America and the Caribbean(CERLAC)/ Centre for Feminist Research
The Refugees Welcome Here! campaign is supported by the Syria Response and Refugee Initiative of York's Centre for Refugee Studies (www.yorku.ca/refugees). Thank you WUSC Keele for leading this year's Winter Clothing Drive.
Nov
16
Fri
2018
CFR Co-Sponsored: Personal and Political: Stories from the Women's Health Movement 1960-2010
Nov 16 @ 12:00 pm – 2:00 pm
CFR Co-Sponsored:
York University's School of Nursing Invites you to a
TALK and BOOK LAUNCH featuring:
Personal and Political: Stories from the Women's Health Movement 1960-2010
With Dr. Lorraine Greaves (Centre of Excellence in Women's Health)
Event Details
FRIDAY NOV 16TH, 12:00
Victor Phillip Dahdaleh Building Room 1005
88 The Pond Rd, North York, ON M3J 2S5
Refreshments Provided.
Books available.
* RSVP by 14 November to owhchair@yorku.ca
This book...
➢ Examines the role of feminism in transforming the healthcare system in Canada
➢ Analyses the "second wave" women's health movement in Canada between 1960 and 2010
➢ Describes how this feminist movement challenged diagnoses, treatments, regulations, policies, laws, and research
Co-sponsored by: The School of Nursing, Women's Health Research Chair in Mental Health Office, Health and Society, LAPS Health Policy & Management, Faculty of Health at York University; The Feminist History Society; and Second Story Press.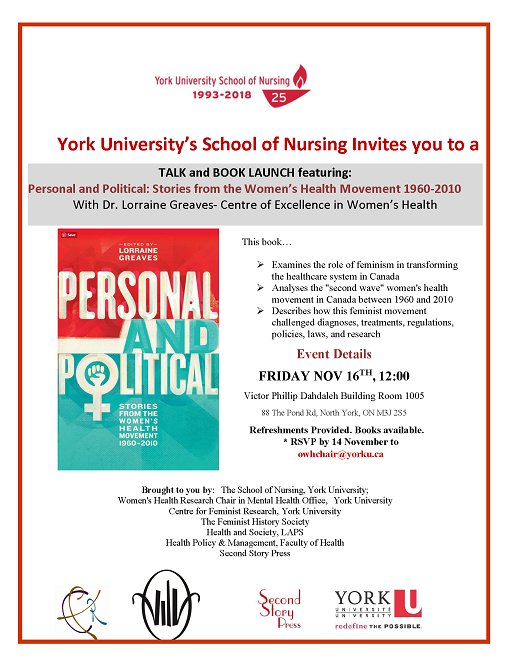 Nov
17
Sat
2018
CFR Co-Sponsored: Community Screening Event of Face, the Other Side 얼굴, 그 맞은편
Nov 17 @ 2:45 pm – 5:30 pm
CFR Co-Sponsored:
Community Screening Event of Face, the Other Side 얼굴, 그 맞은편
Community Screening Event of Face, the Other Side 얼굴, 그 맞은편
Film screening: 2:45 PM - 4:15 PM, November 17, 2018
Discussion and Q&A with Director LEE Sun Hee: 4:30 PM - 5:30 PM
* Event is presented bilingually, in both English and Korean: film screening has Korean audio with English subtitles; Discussion/Q&A will have a Korean/English interpretation
Location: Innis Town Hall, 2 Sussex Ave, Toronto.
Registration: click "Tickets (FREE)" button or go to https://face-the-other-side.eventbrite.ca
Presented by:
The Centre for the Study of Korea (CSK)
The Dr. David Chu Program in Asia-Pacific Studies
Women Initiate New Domains (WIND)
Co-Sponsors:
The East Asian Studies Department at the University of Toronto
York Centre for Asian Research (YCAR)
Centre for Feminist Research at York University (CFR)
The Cinema Studies Student Union (CINSSU)
Film Synopsis:
The culture of men watching illegally filmed videos of sexual violence is becoming a huge problem in Korea. Videos of sexual intercourse filmed without the consent of women are publicly shared on illegal sex violence video sites. Female victims of these videos are branded as 'something-something girl' and become content products that are bought without copyrights. These transactions have created a huge market. Women can't help but live in constant fear of getting their exposed bodies or sexual intercourses filmed anywhere, anytime, by anyone. Yet, the police are tepid with investigations and punishments, and consequently, female victims' lives are destroyed psychologically, socially, and financially. Infuriated by reality, some ordinary women have turned into political feminist warriors. Getting by with part-time jobs, they voluntarily gather together and spend countless hours trying to identify the faces of the consumers of illegal videos so that they can collect enough evidence to report to the police. They also erase the victims' videos and help them restore their life. Face, the Other Side goes beyond investigative reporting rather than simply unearthing the criminal cartel that consumes, produces, and distributes sexual violence videos. The film is an empowering story of young women growing into feminists and activists to reclaim the control of their bodies. They are the ones who change the world.
Director Bio:
LEE Sun Hee
Femi-tator – it is a word that I coined, as well as a value, and an occupation. My job is to organize and systematize women's indignation. I write, make speeches, and sometimes bring my camera around to make documentaries, and dream of a world where feminism is common sense.
In a few years, I hope to see NAH Hye-suk, the protagonist of my screenplay, Draw the Light, from long ago, on the screen and saying the line, "Virginity isn't my hobby."