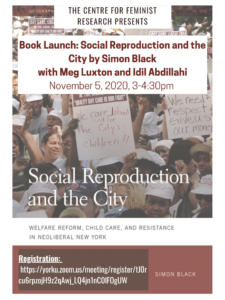 Book Launch - Social Reproduction and the City: Welfare Reform, Child Care, and Resistance in Neoliberal New York by Simon Black
With: Meg Luxton (Introduction) and Idil Abdillahi (Discussant)
Date: November 5, 2020
Time: 3pm-4:30pm (EST)
The transformation of child care after welfare reform in New York City and the struggle against that transformation is a largely untold story. In the decade following welfare reform, despite increases in child care funding, there was little growth in New York's unionized, center-based child care system and no attempt to make this system more responsive to the needs of working mothers. As the city delivered child care services "on the cheap," relying on non-union home child care providers, welfare rights organizations, community legal clinics, child care advocates, low-income community groups, activist mothers, and labor unions organized to demand fair solutions to the child care crisis that addressed poor single mothers' need for quality, affordable child care as well as child care providers' need for decent work and pay. Social Reproduction and the City tells this story, linking welfare reform to feminist research and activism around the "crisis of care," social reproduction, and the neoliberal city.
---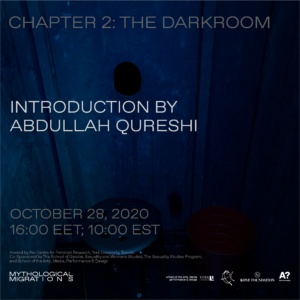 Chapter 2: The Darkroom, curated by Abdullah Qureshi, is a multidisciplinary virtual exhibit that looks at: cruising, erotic spaces and practices that are traditionally understood as sexually promiscuous, and thus, morally rejected or pushed to the peripheries by the dominant heteronormative society, challenging and re-claiming histories of orientalism, activating and disrupting spaces that are otherwise considered dangerous, and opening up the possibilities of sex and gender expression from queer, Muslim, and migratory perspective.
The four-day program features artistic contributions, films, and talks. The full schedule, artists, contributors and registration for the exhibit can be found on Facebook (https://fb.me/e/4FTg2dtaJ) and Instagram (@mythologicalmigrations).
https://www.abdullahqureshi.org/mythological-migrations
Dates: October 28-31
---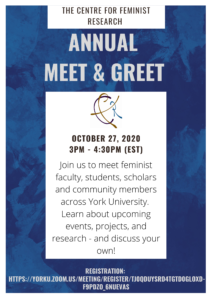 CFR Meet & Greet 
Date: October 27
Time: 3:00pm
Registration: https://yorku.zoom.us/meeting/register/tJ0qduysrD4tGtD0gLoXD-F9pDZo_6nUevAs
---
Trans and Autistic: Stories from Life at the Intersection
By Noah Adams and Bridget Liang
Online Book Launch
Poster
Join authors Bridget Liang and Noah Adams with moderator Dr. Jake Pyne to discuss their new book Trans and Autistic: Stories from Life at the Intersection, featuring talks from several of the people interviewed.
Dates: September 17th and 24th
Time: 7:00pm – 8:30pm
Registration details can be found at bit.ly/trans-and-autistic
Drawing upon a wealth of interviews with transgender people on the autism spectrum, the authors explore experiences of coming out, self-discovery, healthcare, family, work, religion and community support, hoping to help dispel common misunderstandings around gender identity and autism, while allowing autistic trans people to see reflections of their own neurodiverse experiences. Trans and Autistic: Stories from Life at the Intersection is now available for purchase from stores and online retailers, including Amazon and Bookshop.
Co-Organized by the Centre for Feminist Research